Proudly Serving Central Florida and the surrounding areas since 2014
Over 25 Years of Experience
Ed & Kerri Hearsey, along with Patrick Cheney & Eddie Hearsey Jr. are the proud owners of ABC Air Conditioning and Heating Specialist Inc™ Ed has a Florida Contractor License as well as NADCA certification. Kerri has an extensive business background and has operated ABC Air Duct Cleaning in Orlando for over 25 years. Eddie, Jr. grew up in the family business and has been servicing Orlando area clients for over a decade. Eddie's a graduate of the air conditioning, heating, and refrigeration technology (HVAC) program at Southern Technical College. Patrick was born and raised here in central Florida. He has been in the A/C industry for the past 17 years and has always taken pride in his work, and enjoys helping people solve their cooling and heating problems.
ABC Air Conditioning and Heating Specialist Inc™ specializes in residential and light commercial sales and service and has technicians capable of repairing, replacing, or servicing every major make and model of HVAC equipment. Consumers have many options with respect to which Orlando A/C contractor they select, so we observe strict hiring practices to ensure the highest quality employees represent ABC both in the field and administratively so that our customers' needs may be satisfied.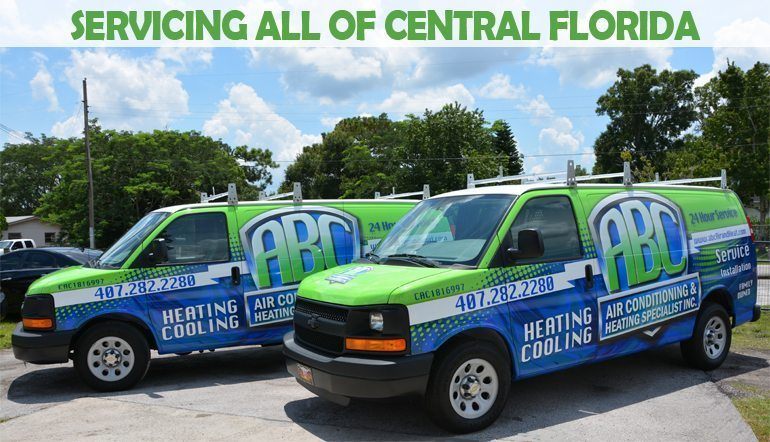 Our Fleet & Dedicated Staff
Our large fleet & dedicated staff allows the company to provide customer service and quality of workmanship that is unmatched in our industry. We typically respond to a service request on the same day it was received and regularly are able to perform an installation within two business days.
Moreover, we have an experienced technician available for emergency calls 365 days per year to ensure that a minimum amount of time elapses between an urgent request and the satisfaction of that need. We offer competitive, preventive maintenance agreements wherein our technicians visit your home twice per year to evaluate, maintain, and clean your systems to ensure maximum operation efficiency.
Our Expertise
When it comes to deciding upon replacing an existing HVAC system, our association with a wide range of A/C manufacturers allows us to present an array of options regarding both efficiency and pricing, and offering that flexibility is something that distinguishes us from our competition. SEER is an acronym for Seasonal Energy Efficiency Ratio, and those ratings range from a mandatory low of 13 to a high of 20 SEER. The wide range of experience enjoyed by our installers, technicians, and consultants distinguishes ABC Air & Heat for its ability to analyze and assess all types of challenges and assures our customers of the most professional advice available, as well as the highest quality work product. We adhere to municipal standards with respect to obtaining permits and arranging inspections of our installations, remove all existing equipment, clean up the premises thoroughly upon conclusion of the work performed, and conduct full-scale audits of the equipment with our customers as well as educating them as to the benefits and operation of the new machinery. In most cases, an installation is begun and completed on the same day.
Lastly, we offer free, in-home estimates to provide you with the information to assess how you can save on utility costs, remove hot and cold spots throughout the home, lower humidity, breathe cleaner air, and enjoy quieter and more efficient cooling and heating systems.